Am's Fall Short, 4-3 to Red Deer in Shootout
Posted:
Updated: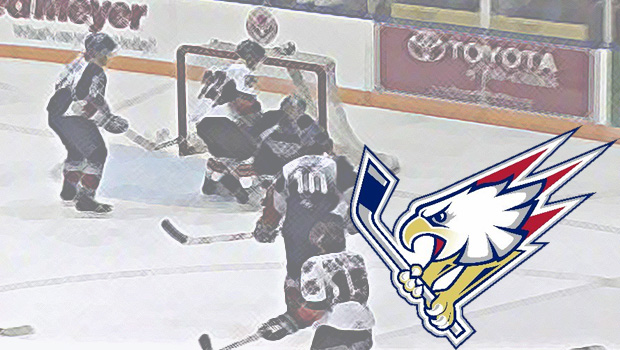 RED DEER, Alberta (by Tri-City Americans) -- To quote fishermen everywhere, Wednesday's game for Tri-City was 'the one that got away.'
Backed by two ex-Giants, Andrej Kudrna scored twice and Kraymer Barnstable played 43+ minutes of shutout hockey to lead the Red Deer Rebels (26-19-0-4, 56 pts) to a 4-3 come-from-behind shootout win over the visiting Tri-City Americans (36-12-0-2, 74 pts) in front of 4,237 fans at the Enmax Centrium. With the win, the Rebels have won two straight and snapped their three-game losing skid vs. Tri-City. Meanwhile, Tri-City, for the first time this season, has lost three straight road games as they fall to 1-3 vs. the Central Division this season.
Playing in his hometown for the first time since entering the Western Hockey League, Red Deer-native Justin Feser got the scoring started for Tri-City. Just 6:42 into the contest, and waiting backdoor, Feser buried a feed from Neal Prokop past Rebels starter, Darcy Kuemper. Then, while playing 4-on-3 with just seconds remaining before the first period break, Feser beat Kuemper again with a one-timer from the right point to put the Americans up 2-0 after 20 minutes of play.
Only 1:18 into second period, the Tri-City lead grew to three when Brendan Shinnimin poked in an Adam Hughesman rebound and chased Kuemper from the game. Kuemper's night ended after allowing three goals on 10 shots and gave way to Barnstable. And, much like Tri-City's comeback win vs. Vancouver last Friday, Red Deer's goaltending swap ignited the Rebels.
At the 9:00 minute mark of the second period, Red Deer got on the board via the power play. After a great feed from rookie Ryan Nugent-Hopkins, Kudrna beat Drew Owsley up high with a backhand. Less than five minutes later, Kudrna beat Owsley again with a backhand, pulling the Rebels to within one.
With all the momentum in their corner, Red Deer continued to fire away on Owsley, outshooting the Americans 15 to 6 in the third period. Finally, with 2:45 remaining in regulation and on the power play, team-leading scorer Willie Coetzee found daylight low on Owsley's stick side, knotting the game at 3.
After neither side allowed a shot on goal in the 5-minute overtime, the contest headed to a shootout. As the home team, Red Deer elected to shoot first and sent out Detroit draft pick, Landon Ferraro. Ferraro beat Owsley up high before giving way to Shinnimin on Tri-City's first attempt. Barnstable, however, robbed Shinnimin, whose body was on the ice, but deflected the puck with the end of his stick out of mid air. After Coetzee, Johnny Lazo and Kudrna all went scoreless in their attempts, it was up to Kruise Reddick to tie the shootout and force extra frames. However, Barnstable was up to the task to complete the Red Deer comeback in dramatic fashion.
Barnstable collected 14 saves in the win. Meanwhile, Owsley, behind 33 saves, picked up his first shootout loss in three career tries. The Tri-City power play finished the night 1-for-4, while the Rebels went 2-for-6 on the man-advantage.
With a practice day on Thursday, the Americans will prepare to take on the Edmonton Oil Kings on Friday, January 29. Game time is 6:00 p.m. (PST) at Rexall Place. Tri-City is 1-1 vs. the Oil Kings in their brief two-year history, with their lone win coming in the two team's inaugural meeting back on Feb. 27, 2008 in Edmonton, a 5-1 Tri-City win. The Americans will be looking to snap their longest road losing streak of the year against the Oil Kings, who have gone 0-11-0-3 in their last 14 games.