Ellensburg woman works to rehabilitate and set free bald eagles
Posted:
Updated: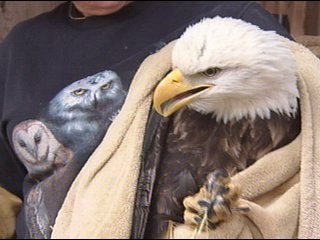 MOSES LAKE, Wash. -- It's the moment Marnee Wine's has worked for, releasing a rehabilitated bald eagle back into the wild.
"It's so rewarding when you release an animal back into the wild, you just see it fly off and you know that it's got a good chance of surviving again," said Wines.
Marnee is a licensed animal rehabilitate, she takes in birds of prey, large mammals, basically any animal that needs her help. Moses the eagle was found with a damaged wing back in December (near Moses Lake) and took about a month to fly again.

Marnee works with a wild animal veterinarian in Ellensburg and the Department of Fish and wildlife. There are rehabilitates in eastern and western Washington, but she's about it for central Washington.
"Folks like her are extremely helpful to the Department of Fish and Wildlife, actually to the entire citizenry of Washington state," said Eric Pentico, habitat biologist, The Department of Fish and Wildlife.
Eric said the department just doesn't have the resources to take care of all the animals that need help. Not only does Marnee rehabilitate she also educates, taking a blind great horned owl named Samantha and a one winged owl named Max to classrooms and nursing homes.
It takes a lot of meat and man hours to feed all her animals, she spends $5,000 to $6,000 a year on running the facility, based in Ellensburg.
"It all depends on how many animals are in and how many meat donations I get. This year it's been pretty slim picking from hunters [who donate freezer burned meat]," said Wines.
Marnee's next goal is to get a female bald eagle to Tennessee. Wilson, a female eagle, has been accepted into the National Eagle Foundation Breeding Program. The trip will cost around $1,500.
To find out how you can support Marnee's licensed non-profit, the Kittitas Wildlife Rehabilitation Group you can call or e-mail her at 509-856-6657, marneej@kvalley.com
Eagles were taken off the national endangered species list in 2007, in part because of people like Marnee. Federally eagle's are a "species of concern" and in Washington they are classified as a "sensitive species" according to Pentico.