A Dunk Off In Walla Walla: Winston and Weisner
Posted:
Updated: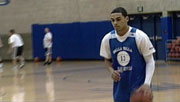 WALLA WALLA, Wash. -- They play for the Walla Walla Blue Devils, one of the top teams in the Big Nine.
And they are two of the league's top scorers, Gary Winston averages nearly 24 points a game, Michael Weisner comes in at over 17.
And whether we are talking about their dunks or their team, these guys are on their way up.
The Blue Devils went from a relative unknown a year ago to an 8-1 start in Big Nine play this saeson led by Idaho-bound guard Gary Winston and future Montana star forward Michael Weisner.
"It's definitely going to be a lot harder because we're marked now," said Winston. "Last year, no one knew about Walla Walla. I remember walking into the Tacoma Dome and someone said Walla Walla, whose that?"
The teams: they know now. Walla Walla is ranked 4th in the state and is 13-2 overall. The competition thus far has had trouble containing the Blue Devil aces. Of the two, which is the tougher to guard?
"Oh me, come on," said Winston. "But, he's cool, he's a good athlete and everything."
"Him and I never really talk about it but I think there is a little competition that we have always had," said Weisner.
So to settle this dispute, KNDU and KNDO held it's 1st ever Dunk Off. After the contest, the two dunkers weighted in.
"I finished all mine, that's all I got to say," said Weisner.
"I didn't see Michael do a windmill but he made all his dunks," said Winston. "I missed one of mine so he can take it this time."
***If you want to check out the Dunk Off, look under the Video Now section.