Financial Fitness Fair
Posted:
Updated: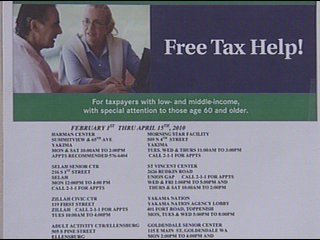 YAKIMA--Tax season is almost here, and while you may be eligible for more credits and money back than in years past, it could also mean your forms are more complicated.
An $8,000 new home buyers credit, real estate interest deductions, even buying a new car. All could potentially bring you a larger tax return this year. Whether or not you're eligible for any of the three, they will make filling out those forms a longer and tougher task this year.
As a little prelude to filing your tax returns, the AARP held a financial fitness fair in Yakima Friday.
They'll get you prepared to do your taxes, or even take care of them for you free of charge.
However your taxes get done, don't forget some very crucial forms.
"Make sure that you have received all your W-2's from everybody you worked for and your interest statements, so you know how much interest you received from the bank those are the basic things," Steve Houghton, an AARP tax aide, said.
Houghton said the AARP's goal was not just to help people gear up for April 15th, but also to inform them about the Earned Income Tax Credit, which can provide up to $5,600 to people who qualify.
Starting Monday, the AARP will hold these tax return info sessions at different sites all across the country.
To find out the nearest location you can have your taxes done for free, call 211.