Yakima County senior nutrition programs face closure
Posted:
Updated: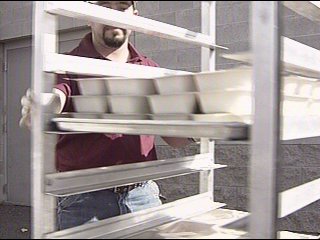 YAKIMA, Wash.- State budget cuts could force an important senior food program to shut down, if other revenue isn't found soon.
Everyday 2,500 seniors rely on Meals on Wheels and senior nutrition program. Some meals delivered to homes and others to nutrition sites.
Now the agency is facing a 65 percent budget cut and meal sites could be shut down.
Senior citizens aren't taking the issue lightly.
"Each of them sent out letters to the governor and state representatives, we wound up with over 700 letters from Yakima," said Jerry Baldoz, the program director.
Seniors are asking the governor to examine the budget again and save the program.
The state's response was that the budget will restore the cuts if revenue is found to cover the programs expenses.
"That means unless we see taxes to keep seniors healthy and strong some of our programs are going to die," said Baldoz.
The program director is preparing for the worst, looking for ways to cut costs. One option is to reduce the hours of service. Another option is closing lunch sites.
"I get my main meal since I've been coming here, its been a God send," said Marion Fretwell, a concerned senior.
Soon, Fretwell and hundreds of others could have to find new ways to stay healthy. While this is the only nutritious meal most seniors are getting. It's also their only social interaction, something many say keep them going.
"We as seniors should be able to get our chance to go out and you shouldn't take that away from us," said Kitty Quinn, another concerned senior.
Meals will continue to be served until further decisions are made. Just in case, the director says he is informing seniors that programs might be closed down.