Seventh Heave for the Americans
Posted:
Updated: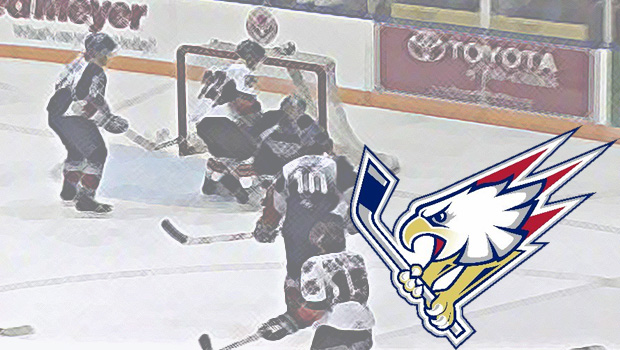 EDMONTON, AB-- For the last 48 hours, all the Americans' players heard was 'do not let up when you have a lead.' Message received.
The Tri-City Americans (37-12-0-2, 76 pts) scored four times in the third period in route to a 7-0 win over the Edmonton Oil Kings (10-31-4-7, 31 pts) in front of 4,128 fans at Rexall Place. The Americans, who got goals from seven different skaters in the contest, improved to 2-1 all-time vs. the Oil Kings while snapping their longest road losing streak of the season at three. Meanwhile, Edmonton continues to struggle, as they remain winless in 2010 and have lost 15 straight games.
It didn't take long for the Americans' offense to get going on Friday, as Johnny Lazo scored the eventual game-winner just 2:14 into the contest. After Jarrett Toll intercepted Edmonton's Mark Pysyk, he sent Lazo in on a breakaway. Lazo then beat Oil Kings goaltender Cam Lanigan between the pads, putting Tri-City on top 1-0. Then, just over two minutes later, Patrick Holland gave the Americans a 2-goal lead when he flung a pass out of the left corner that struck Lanigan in the left and ricocheted into the net.
Over the final two periods, special teams became the name of the game for Tri-City, as four of their next five goals came either on the power play or while playing shorthanded. The Americans kicked off the second period with a power play goal at the 5:14 mark, as Tyler Schmidt wrapped in a Lazo rebound.
With just 3:07 gone in the third period and playing shorthanded, Kruise Reddick buried a shorthanded breakaway to put the Americans up by four. Then, just over 10 minutes later and playing short again, Justin Feser chipped in a backhander after Lazo sent him in on a breakaway. Less than two minutes later, Nils Moser left a drop pass for Neal Prokop, who beat Lanigan with a quick snap shot to make it 6-0.
Finally, just as a 5-on-3 Tri-City power play ended, Eric Mestery notched a wrist shot from the top of the left circle, collecting his first goal since returning to Tri-City and capping the scoring in the contest. It was a rough night for Lanigan, who allowed a season-high seven goals on 29 shots in the loss. Meanwhile, Alexander Pechurskiy made 20 saves to pick up his third career shutout in just his eighth WHL start. Tri-City finished the night 2-for-6 on the power play and a perfect 4-for-4 on the penalty kill.
The Americans will now wrap-up their swing through the Central Division on Sunday, January 31 as they head to Calgary to take on the Hitmen. Game time is 1:00 p.m. (PST). Tri-City holds an all-time record of 8-10-0-0 with 1 tie vs. the Hitmen, including a 3-6-0-0 with 1 tie record at the Pengrowth Saddledome. Calgary, meanwhile, comes in having won three of their last four games, but has dropped their last three games vs. Tri-City. Fans can catch all the action live, via WHL WebTV, at the Americans' home away from home, Kimo's Sports Café in Richland. The game will also be broadcast live on NewsTalk 870 AM, starting with the Sterling Savings Bank Warm-up Show at 12:45 p.m. (PST).