Be prepared for anything when snowmobiling
Posted:
Updated: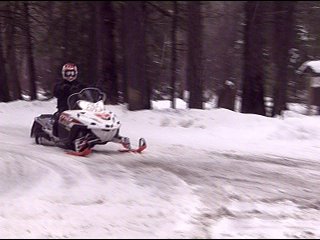 AHTANUM STATE FOREST--As many people gear up for outdoor activities like snowmobiling and cross-country skiing, the cold weather poses some serious risks.
Thursday, a 51-year-old man from Castle Rock spent the night outside in frigid temperatures after getting separated from his group while snowmobiling.
While he managed to light a fire and stay warm, authorities say he wasn't equipped for a night in the woods.
KNDO found out what any smart snowmobiler should take on their trip.
Kira Bennett is a regular on the trails at the Ahtanum Snow Park, but she and her boyfriend had a scare last year.
"A storm rolled in and the fog set in and we couldn't tell which ridge we were on," Bennett said. "We kept doing circles because the snow was covering our tracks."
After four hours of circling, they finally made it back to the parking lot. There, they realized they weren't prepared for an extended stay outdoors.
That's changed.
"I always carry water and snacks," Bennett said, holding up a bag of candy. "Things that don't freeze are really good."
Her story doesn't surprise Yakima County's Search and Rescue team.
"It doesn't take very long for a storm to come rolling in," Dep. Steve Sutliff, Yakima County Sheriff's Office, said. "You leave [on the snowmobile trails] and it's sunshine. Two, three, four hours later, you're in a blinding snowstorm."
That makes a GPS or compass essential. Also, take clothes to keep warm, and matches to start a fire. Bringing a cell phone is another good idea. In case electronic devices aren't working, Sutliff also recommends taking maps, which can be purchased at the Yakima County Sheriff's Office, Naches Ranger Station, and several other places.
Another key: go out in a group.
"I think if you have a great leader you can have a great ride," Bennett said.
But, the man who got lost this week went with others, so don't just go with a group, stay with the group.
"You stop at an intersection, wait until the next guy comes and [then] go on," Sutliff said. "That way everybody knows where everybody went."
Taking these steps--no matter how simple they may sound--can mean the difference between danger and safety.