Steve David to be inducted into Powerboat Hall-of-Fame
Posted:
Updated: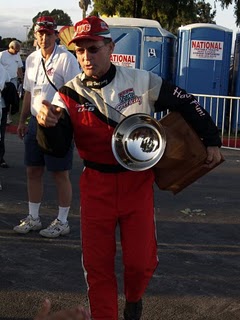 Steve David, driver of the two-time national champion U-1 Oh Boy! Oberto unlimited hydroplane, and four-time winner of the driver's championship will be inducted into the celebrated American Power Boat Association's (APBA) Hall of Champion, an award distinguishing the sport of power boat racing most outstanding drivers.

David, from Lighthouse Point, Fla. will be inducted during the APBA's national meeting award dinner at the Doubletree Guest Suites-Southcenter on Saturday Jan. 30 beginning at 6:00 pm.

After learning David would receive the award he said, "It is an honor to be recognized as the best of the best in powerboat racing. To be only the 12th driver to be inducted in the unlimited class of hydroplane racing sure puts an exclamation point on the season I have had."

David's 2009 race season ended in Nov. in Doha, Qatar after he unexpectedly launched the 200 mph Oh Boy! Oberto hydroplane off a wave causing the boat to fly in the air completing a 360 degree airborne flip (video available at http://tampadigital.com/abra/ under Saturday Heat 4A).

David, unhurt was able to drive the boat back to the pit area where his crew readied the boat for the winner-take-all final. David placed second, scoring enough points to win the 2009 H1 Unlimited hydroplane national championship.

After the flip David said, "That was the 'hiiiiigh-light' of the season!"

During the 2009 season David won the Tri-Cities, Wash. Columbia Cup his 9th of his career and won nine heat races.

The APBA Hall of Champions was established in 1974 to distinguish its most outstanding drivers from each season, the Hall of Champions is APBA's highest racing honor. Race season points accumulated and achievements in a boat class form the basis for selection.

David joins the likes of Chip Hanauer, Bill Muncey, Billy Schumacher and Dave Villwock who have also been inducted in the APBA Hall of Champions.

In addition to David, 15 other drivers from seven classes will also be encompassed into the Hall of Champions on Saturday night.