Teen shot by Union Gap Police officer makes first court appearance
Posted:
Updated: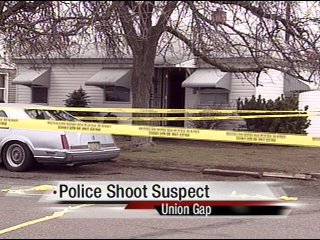 UPDATE: YAKIMA, Wash. -- Jeremiah Morales, a 16-year-old shot by police made his first appearance in juvenile court Monday. The judge set bail at $50,000. She said it was because of the serious allegation of aiming a gun at a police officer.
"We're trained to shoot the center of mass of the target that we have and we're taught to shot to stop the threat," said Sgt. Monty McNearney.
Around 11 a.m. Sunday two Union Gap Police officers respond to reports of a man with a gun. Officers say as they arrived Morales was outside, when he pointed a handgun at them an officer fired, hitting the teen in the abdomen.
Today in court a family member alleged the gun was a fake.
Now, an outside agency, the Yakima Police department, is investigating the officer involved shooting.
"It hopefully alleviates anybody from saying that we're trying to cover-up anything," said McNearney.
The two Union Gap officers involved are on administrative leave, which is common procedure.
Morales is scheduled to be formally arraigned Wednesday, he's facing two counts of second degree assault and unlawful possession of a firearm. The judge approved for Morales to be transferred to a secure mental health treatment facility.
UNION GAP--For the first time in several years, Union Gap police shoot an armed man in the line of duty. It's an action that may have prevented a much more serious incident.
Shortly before 11:00 a.m. Sunday, officers responded to a house on the corner of Second Street and California Street.
Initial reports said an armed gunman was in the home; describing the situation as possible domestic violence.
When the suspect pointed his gun at two officers, they took action.
"[The suspect] caused the officers to fire," Union Gap Police Chief Robert Almeida said. "The suspect did have a weapon in hand and was hit."
The suspect was shot once in the midsection.
By 11:15, the 3800 block of Second Street was swarming with police.
"Oh yeah, they were here real quick," Doug Estabrook, who lives down the street with his two children, said. "They responded well; they blocked it off and kept people away real well."
Among those kept away, one man who told police he was the suspect's brother.
The situation worried neighbors, including Estabrook.
"I don't like [what happened]," he said. "I don't like the fact that there's this kind of stuff going on in my neighborhood with my kids living here."
Almeida would not disclose the names of the officers who shot the suspect, but said they will be placed on administrative leave while the shooting is under investigation. Almeida said the move is typical when officers are involved in a shooting.
The Yakima Police Department will handle the shooting investigation. Again, police say it is standard procedure for an outside agency to investigate after an officer-involved shooting.
The suspect's name has not yet been released; his injuries are not considered life-threatening.