Calgary Power Play Sinks Americans
Posted:
Updated: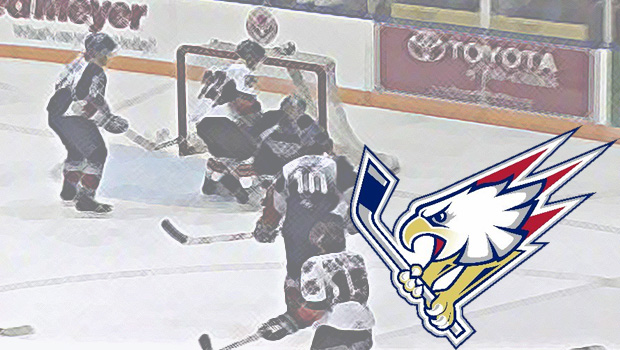 CALGARY, AB - In a marquee Western Hockey League match-up on Sunday afternoon, the Tri-City Americans' special teams came up a bit short.
The Calgary Hitmen's (33-16-1-1, 68 pts) power play went 2-for-2 as they bested the visiting Tri-City Americans (37-13-0-2, 76 pts) 3-0 in front of 11,472 fans at the Pengrowth Saddledome. Tri-City, who wrapped up their swing through the Central Division with a 2-3-0-1 record, dropped their third game in their last four contests. They also fell to 3-7-0-0 w/ 1 tie all-time at the Saddledome. Meanwhile, Calgary has now won four of their last five games as they keep pace in the ultra-right Eastern Conference standings.
The match-up lived up to its pre-game billing, as the two clubs slugged it out literally and figuratively through the first 20 minutes of play. Despite combining for 20 shots on goal, goaltenders Alexander Pechurskiy and Martin Jones kept the game scoreless.
But, despite taking only two minor penalties over the last 40 minutes, the penalties came back to haunt the Americans. The first came at the 5:36 mark of the second period when Riley McIntosh was called for tripping. With just eight seconds remaining in the man-advantage, Misha Fisenko sent a pass from the right corner to Ian Schultz. Schultz, who was set-up in the slot, beat Pechurskiy to break the scoreless tie.
Then, Tyler Schmidt was called for hooking just 30 seconds into the third period, putting the Hitmen back on the power play. Only 40 seconds into the man-advantage, Tyler Shattock rifled a shot on Pechurskiy, who made a great save with his right pad. But the rebound bounced off the skate of Eric Mestery and sat in the crease. There, patiently waiting was former American Joel Broda, who banged it into a near empty net and gave the Hitmen some breathing room at 2-0.
Tri-City, who outshot Calgary 12 to 6 in the final frame, was limited to shots primarily from the perimeter, unable to truly test Jones. But, with 3:42 left in regulation, Calgary's Matt MacKenzie took a roughing penalty to put the Americans back on the power play. Even with Pechurskiy pulled for the extra attacker, Tri-City still could not beat Jones. Finally, with 15 seconds left to play, and Pechurskiy still on the bench, Calgary's Jimmy Bubnick capped the scoring with an empty netter.
Pechurskiy, who put in another strong performance, stopped 29 of the 31 shots he faced in the loss. Meanwhile, Jones stopped all 35 shots faced to pick up his fourth shutout of the year and the 12th of his career. The Americans' #1-ranked power play coming into today's game went 0-for-5, while Calgary's #2-ranked unit went 2-for-2 on the man-advantage.