Is panhandling actually a problem?
Posted:
Updated: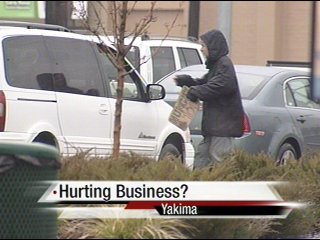 YAKIMA, Wash. -- Now you'll get a chance to weigh in on panhandling, city council voted to hold a public hearing. The question is, is panhandling really a problem?
Panhandling is legal and is considered a form of free speech, but some business owners say it's infringing on their right to conduct business.
"The rights of business and the rights of customers need to be protected," said Jar Arcand, owner, Santiago's.
Arcand's been in business for over 30 years, he's seen the downtown grow and flourish. But, he's afraid the recent surge in panhandling could put Yakima back a step.
"We've created a very safe environment in the downtown. People were afraid in the past, I don't want to see it go back to that and yes I know panhandler's have their rights, but you know what everybody has rights," said Arcand.
Banks, wineries and other restaurants like the Yakima Sub Shop get panhandlers too. All have stories of aggressive people wanting money, food or even wine. But, Ron Bonlender says for the most part it's not a big deal.
"It's so infrequent I can count on one hand in five years the incidents," said Bonlender.
Ron usually just asks them to leave, he thinks Yakima's current ordinance is enough, it just needs to be enforced.
"And as far as my business goes, it's um, I would say that it has zero impact on my business," said Bonlender.
City council voted to hold a public hearing on panhandling. The legal department said testimony will likely be necessary to create any new regulation. The hearing is tentatively scheduled for 7:00 p.m., March 23 at City Hall.