Dual Language Program in its 6th year in Pasco
Posted:
Updated: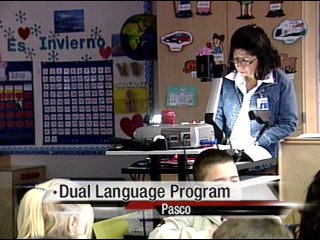 PASCO, Wash.-- The Dual Language program is in its 6th year at Maya Angelou Elementary in Pasco. Kids who started in kindergarten are now in 5th grade and basically fluent in two languages.
The two-way dual language program teaches English-speaking kids Spanish and Spanish- speaking kids English. The two are paired up, and start by hearing 80% Spanish, 20% English in kindergarten. They slowly transition to 50% and 50% by the time they're in 5th grade. Teachers use pictures, drawings, sounds, and gestures, just to name a few methods, of getting kids to learn the words in both languages. That's also where the buddy comes in, a friend can help them understand what the teacher is trying to say.
The Gadd family has two children who are currently in the program. Ally, 9, is in 3rd grade and Drew, 6, is in kindergarten. Both are native English speakers, who didn't speak any Spanish before the program. Their dad, Paul, says "We just think a second language can be a tremendous help later in life." He says it'll help them be able to communicate with more people, understand other cultures, and get a better job.
Even 9-year-old Ally understands that. She starts in flawless Spanish, "Cuando necessito un trabajo..." and continues on talking about when she needs a job, she'll get a better one and make more money because she speaks two languages. Her parents say right now, even with all the Spanish she speaks, she still tests above grade-level on her English tests.
The Gadd's put Drew in the program because Ally likes it so much. She says, again starting in Spanish and translating for herself, "A mi me gusta... I like it because I can learn more Spanish and I pretty much learn something, like a new word, every day and stuff, so I just think it's really fun."
Right now the Dual Language program in Pasco stops at 5th grade, but Pasco school leaders say plans are in the works so they can continue the program into middle school.