UPDATE: Courthouse fixes handicap parking signage
Posted:
Updated: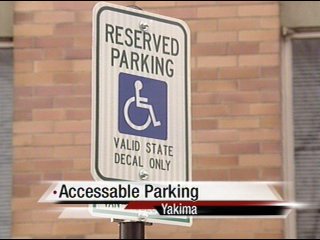 UPDATE: On Monday we showed you why the new handicapped parking spots at the courthouse didn't work and weren't in compliance with ADA standards.
Now, the county has fixed the problem. The signage said that several spots were van accessible when they were actually too small. By removing the signage the parking spaces are back in compliance says a code inspector.
"The one thing that I had asked the county to do they immediately did the next morning. When I came to work it was all done," said Nathan Thompson, supervising code inspector.
And while the stripped access aisle doesn't line up with the curb cut is in compliance with the minimum standard said Thompson. Still county officials tell KNDO they plan to re-stripe the aisle when the weather is dry.
YAKIMA, Wash. -- If you're disabled and need to park at the Yakima County courthouse can you get out of your car? A disability advocate says the parking spots are not up to standards.
A whole row of new handicap accessible parking spaces at the courthouse, well almost.
Local caregiver and disability advocate Mike Hunnell claims this new parking is not up to the standards of the Americans with Disabilities Act.
"[It's] disrespect, totally rude, crude and in my opinion unacceptable for these people, cause again if it wasn't for our seniors none of us would be here," said Hunnell.
The signage says van accessible, Mike says that's wrong. Currently, the access aisles are only five feet wide, to be van accessible they should be eight in order to accommodate a wheelchair ramp.
Yakima City codes department enforces ADA compliance. It's a complaint based system where people notify the city of problems. The courthouse is county, but the streets and sidewalks are city jurisdiction.
"I did just notice on Friday myself that we have just a little issue with the signs, I've spoke with county and they agree they're going to come down and look at it and get us back in compliance," said Nathan Thompson.
Mike said there's more than just the signs. One access aisle doesn't meet up with the curb cut, so if a car is parked in the spot it's difficult to get a wheelchair onto the sidewalk. Mike's client, Carolyn Riley is post-polio and now uses a wheelchair to get around. She appreciates the city and counties attempt to modernize.
"But, if they went to all the trouble to do that, they should've done them right," said Riley.
Again the city and county are working to fix the courthouse spots, but Mike said there are many more places in Yakima that are not up to standard. We'll be sure to follow-up with this issue and let you know when it's resolved.