Give your special someone a singing valentine this weekend
Posted:
Updated: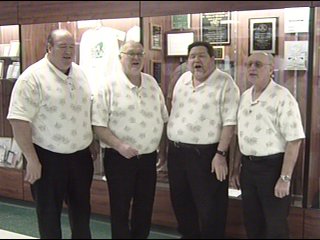 YAKIMA, Wash. – For the last ten years a group of men have gone around the Yakima Valley performing as a barbershop quartet for Valentine's Day, giving lucky recipients a unique and memorable gift for the holiday.
We got a taste of what the group sounds like this week at Wilson Middle School. The members of the quartet say a singing valentine will be sweeter than your average gift.
"Whether you're a guy or a girl, it's usually a little bit more memorable than the chocolates that you're going to eat and probably regret doing so because of the clothes getting tighter," said Jim Deprey, a member of the quartet.
They're willing to take clients up and down the Valley, whether they sing in the privacy of someone's home or in front of co-workers while they're surprising a valentine on the job.
Each order of a singing valentine includes a card and a small gift as well as the chance to take a photo with the quartet.
The group's rates are based on flexible you are during Valentine's Day. This year, it falls on a weekend so they will take requests on Friday, Saturday, and Sunday.
If you don't have a preference of when they show up on a given day, they charge $40. For another $10, they will show up in a two-hour window. To pick a specific time they arrive, they ask for $60.
To make an order for a singing valentine, call (509) 961-9583. If you don't get through, leave a message but make sure you call back to confirm they got your request. The group says feel free to keep calling as well.
The quartet is looking to get more members so dial that number if you think you have what it takes to be a singing valentine next year.