Four Senate challengers speak to supporters
Posted:
Updated: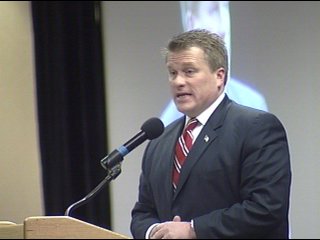 YAKIMA--Didier. Coday. Widener. Salazar. Who? One of the four could be Sen. Patty Murray's challenger in November's elections. The four spoke in front of a standing-room only crowd at the Yakima Convention Center Wednesday night, committing to what they call a strict adherence to the U.S. Constitution (something they say Murray and other Democrats do not follow). Along with that, all four promised to limit government's size and spending and decrease the national debt without raising taxes.

Sean Salazar is a Seattle Republican who stumped for John McCain and Sarah Palin during the 2008 presidential elections. He told the crowd he offers something no other candidate can: the ability to reach inner-city residents along the I-5 Corridor and turn Democrats into Republicans.

Chris Widener recently sold his small business to hit the campaign trail. He's the author of 12 books, including one he co-wrote with Dino Rossi. While voicing the belief that he was the best Senate candidate, he said he would throw his support behind whichever conservative emerged from the 11 currently vying for the nomination.

Dr. Art Coday said he is a personal care physician who primarily serves the elderly poor. He said he opposed the proposed health care legislation of 2009, and if elected would work to create jobs without spending bills.

Clint Didier is a former tight end for the NFL's Washington Redskins. The only one of Wednesday's speakers who hails from Eastern Washington, he compared politics to football, saying the Constitution was a basic game plan that he planned to follow.
Didier, Coday, Widener and Salazar are just four of eleven candidates in the running for the Republican nomination.
Voters can elect Sen. Murray to her fourth term in November. Vice President Joe Biden is scheduled to help her campaign in the Seattle area this weekend.