Hundreds of hungry families are struggling to survive
Posted:
Updated: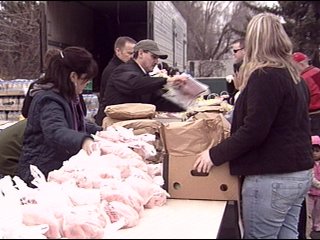 YAKIMA, Wash.- Families lined up, ready and eager to take home food at Grace Lutheran Church. For many of them, this food is their only means of survival.
Jose Castro was one of the first in line. He has two children and a wife and says he's been looking for a job for months.
"No money, no money, there's a lot of people we're looking for something, something to help who we are like this place," said Jose Luis Castro, who lives in Yakima.
Castro isn't alone. Over the last year, food banks are seeing twice as many people. Dilner Benson and his wife say they have nowhere else to turn. They have big medical bills and no steady income. They say this food is all they have.
"We have problems surviving, we worked it so far but its one of those cases where you sink or swim I think we'll sink but who knows, you know," said Janice Benson.
Organizers say over 200 families showed up to get bags of food. What is different this time around is the contents. There's more of a variety, including grain, fruits, vegetables and even protein.
"It's just so expensive so to have good products like this manufactured beef to hand out….it's really nutritious and wholesome for a family to feed," said Rod Wieber, from Second Harvest.
While getting a good healthy meal is important, many of the people we spoke to say they'll take any kind of food at this point.
"Food is an essential, after finding a warm place to stay maybe," said Bonnie Conel, who lives in Yakima.
Organizers say the demand for their service grew so much over the last months, they're doubling the number of food truck, hoping to serve many more hungry families.