Man shot in West Richland
Posted:
Updated: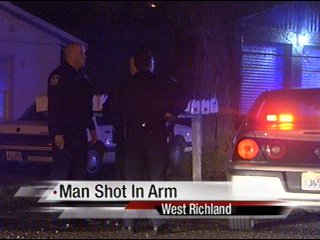 WEST RICHLAND, Wash. - West Richland police have a person of interest in a shooting from Tuesday night.
John Miksch, 47, of West Richland is being questioned about shooting Johnnie Ritchie, 39 around 9:00 PM.
Officers believe the two men were in a house in the area of Fallon and Chelan Dr. when the incident happened. Ritchie left the house, Realized he was shot in the arm and knocked on an apartment door in the area and called 911.
Police say they don't know what led to the shooting, but believe both men knew each other and both had been drinking.
Ritchie was treated and released from the hospital for a gunshot wound to the arm.
Police are still investigating.
are searching for someone who shot a man in the arm while he was walking down the street. It happened around 9:00 PM at the corner of Fallon and Chelan Drive in West Richland.
Police say an intoxicated man in his early 40's was walking down the street when someone fired a small caliber weapon hitting him in the forearm. According to police, the victim says he has no idea who shot him or where the shot came from. "I have an officer at the hospital to try to get more information from him. We're knocking on doors, talking to the neighbors. See if anybody heard or seen anything. And we are checking the area to find any evidence," said Sergeant Scott Bravo.
Police say the man's injury is minor. If you have any information on this shooting contact West Richland Police.