New exhibit on women's suffrage opens Friday
Posted:
Updated: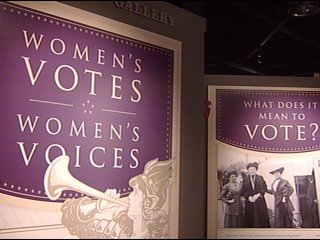 YAKIMA, Wash. - A new exhibit opens at the Yakima Valley Museum this week to celebrate the 100-year anniversary of women's right to vote in the state.
"Women's Votes, Women's Voices" is a touring exhibit that comes to Yakima on Friday and features more than 200 artifacts and displays.
Yakima County Auditor Corky Mattingly is one of the organizers behind the effort to honor this anniversary. She says there is an essential lesson visitors will take away from the women featured in the exhibit.
"Anyone with power can take the right away from you," she said. "So it's important to find out how they stood their ground, how they worked through their systems to be able to get the vote."
On Friday the museum will have an opening reception at 5:30 p.m. and the public is invited to attend. Guests are encouraged to dress like time of the movement. There will be a film screening and appetizers will be served.
The celebration continues beyond the exhibit and around the city. Workshops and lectures are planned in the months ahead at various Yakima locations.
Admission to the Yakima Valley Museum is $5 for adults and $3 for students and seniors. The museum is located at 2105 Tieton Drive. You can view the exhibit during regular hours, Tuesday through Saturday from 10:00 a.m. to 5:00 p.m. and Sundays from 11:00 a.m. to 5:00 p.m.
For more information on the exhibit or other events, visit www.yakimavalleymuseum.org.