Yakima Fire takes humorous approach to smoke detector education
Posted:
Updated: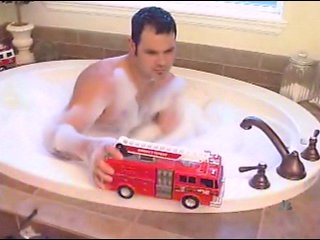 YAKIMA, Wash. -- Smoke detectors save lives, it's a message we hear over and over, but the Yakima Fire Department says not everyone listens.
That's why they've created new public service announcements centered around humor, the concept is, having a working smoke detector is like have a firefighter in your home.

Deputy Fire Marshal Ron Melcher says at about a third of the house fires in Yakima, they find either no smoke detectors or one that doesn't work.
"I'm in my office thinking people aren't listening to me and I'm trying to figure out how can I get people to listen to me," said Melcher.
The departments produced PSA's before, but with a more serious approach, Melcher hopes the new humorous angle hits home with a larger audience.
"Sometimes humor is a good way for people to pay attention, so that's all I'm looking for, someone to just pay attention to the message here," said Melcher.
The PSA's are staged at home with a Yakima family, they have a firefighter on hand, but he's a little pesky, taking too long in the tub, eating all the food and other funny scenarios. The point is, you'd rather just have a smoke detector in your home.
"The message is in there they may not notice it right away, but hopefully subliminally or after repetition it starts to sink in. If we can get a few more people getting smoke detectors in their home it's going to be worth it," said Melcher.
A community grant from the West Valley Wal Mart, helped pay for the production of the PSA's, there are three total at 30 seconds each. Yakima Fire plans to post a longer version of the PSA on it's Web site: www.yakimafire.com
The spots will also be airing on KNDO.