Charter College expands
Posted:
Updated: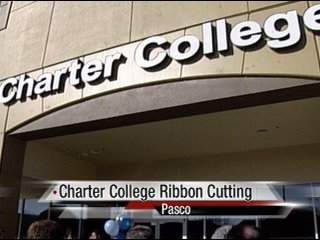 PASCO, Wash. -- A growing college that many people haven't even heard of celebrates a big expansion in the Tri-Cities.
Charter College opened its doors to students one year ago, and has since doubled in size. A ribbon cutting ceremony on Friday celebrated how much the college has expanded. It is located at the Broadmoor Mall in Pasco, and now totals about 22,000 square feet.
Even after opening it's doors a year ago many people are still left wondering; what is Charter College? College administrators say it's a career college...similar to a specialty school geared to prepare students for the skilled work force.
At Charter College you can get certified in a specific field or you can get an Associates Degree. They have accelerated programs that focus education in growing fields such as healthcare and business.
Sarah West, with Charter College Career Services says, "In terms of being able to make a decision that they want to get skills as they change something in their life they can really get in there quickly and in 7 months have a new career track."
In this first year, more than 250 students have enrolled to get certified in everything ranging from health to technology careers. This month alone, about 130 graduated to enter the work force.
Administrators say now that they have expanded in size the next step is to expand in programs.