4 arrested after drive by shooting in Cheney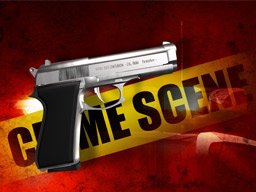 CHENEY, Wash. - Police are investigating a drive by shooting that happened in downtown Cheney early Sunday morning.
Officers were patrolling the area near the 500 block of 2nd St. around 1:15 when they heard gunshots. Upon investigating they located a student from EWU who had sustained a gunshot wound to his hand.
Dave Meany of EWU said the shooting occurred after a confrontation in front of the El Rodeo restaurant on 2nd S. in downtown Cheney. The victim, along with several other EWU students were walking from the downtown bars when the confrontation took place. .
Witnesses described the suspect as a black male, approximately 18-year-old with dreadlocks. The suspect's vehicle was described as a dark colored jeep, which was located by police near the Zip's on 1st St.
Officers arrested four males ages 15, 16, 17 and 19 and charged them in connection with the shooting. Police say more charges could be pending. Their vehicle was impounded by Cheney police. The three juvenile suspects were booked into juvenile hall, and the one adult was booked into the Spokane County Jail by Cheney police.
The vehicle has been impounded by Cheney police, and a weapon was located in the vehicle. Cheney police will be writing a search warrant to obtain the weapon for ballistics tests to ascertain if this is the weapon used in the assault.
Meany said the suspects were mistakenly thought to be EWU students when first contacted. It now appears they are Spokane residents with no known association with EWU at this time.
The EWU student who was wounded in the shooting was transported to Sacred Heart Medical Center and underwent surgery. His injury was described as nonlife-threatening,