Neighbors want deadly Yakima County roads to be changed
Posted:
Updated: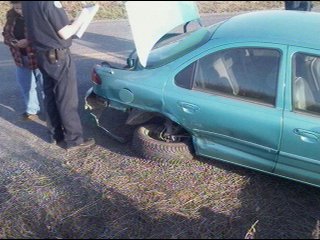 ZILLAH, Wash.- Drivers using Cheyne Road know they face heavy truck traffic and a 50-mile-an-hour speed limit. That's dangerous enough. Add new changes to the intersections and neighbors say it's even more dangerous and someone is going to get killed.
"Right now a car just about ran through the new stop sign and that's the issue, they come up the hill and by the time they get to the intersection that happens," said Orville Hartwig, a Zillah resident.
The county moved the stop sign from Cheyne Road to Highland, now running east and west. These flags and signs were put up. Neighbors say, its not enough warning for drivers.
"It'd be better if they had put a stop sign ahead," said Hartwig.
"Just doesn't make sense from that stand point or because there's hills from either side of the intersection," said Matthew Rawn, a Zillah resident and business owner.
Approaching Cheyne Road, you see a blind spot until the new stop sign, then the issue becomes visibility.
This is the car's view from the stop sign, these trees may look bare now, but come April they'll be filled with leaves which means seeing down Cheyne road will become more difficult.
"Know how dangerous it was before and now when you change it, you have two straight miles of down hill road, vehicles can go faster, much less big heavy semi-trucks," said Rawn.
Neighbors took pictures of the most recent accident. There were two in five days. Neighbors say if the roads aren't fixed, they could see more.
"In the summertime when everyone is doing yard work, the wine tours and the farm workers it's going to be extremely dangerous," said Rawn.
Neighbors are calling Yakima County Commissioners. They want to see something done before someone dies.