CBC goes solar
Posted:
Updated: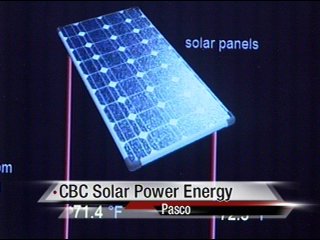 PASCO, Wash-- Solar panels are the newest gadgets to hit the CBC campus. They help power the newest building, the 'B' building. The building just opened up last September and just taking one walk down the hallway you can see how up-to-date it really is.
But it's what you don't see that really separates this building from the rest. Solar panels gather energy and heat large amounts of water-- enough to continuously provide hot water.
Computer panels in the hallway illustrate the energy cycle. And school leaders say it's a huge money saver.
"We know that we're converting a lot of our sunshine into free energy, which in fact makes hot water. Hot water is probably one of the most expensive things you use in your home, aside from maybe heating during a cold winter," says Bill Saraceno, senior vice president of administration for the college. "That's just constant churning on your meters--you can watch your meters spin like crazy when your hot water meter turns on."

Saraceno says the school will be able to fully see the money saved this coming September; that's when they'll look at the annual cost and compare it to the previous year.
In the meantime, they plan to use similar technology as they continue to expand.