Crews construct giant snow castle for Winter Carnival
Posted:
Updated: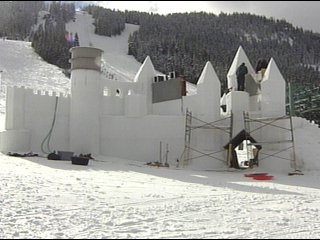 WHITE PASS, Wash. -- Crews are gearing-up for Winter Carnival at White Pass Ski Resort.
KNDO goes behind the scenes as they build the towering snow castle.
It takes two weeks and a lot of labor to build the castle.
"I don't know how they make it more spectacular every year, but the do. We've got a fantastic crew of volunteers who put this together, we've got engineers, we've got architects and builders and they really come together and have a lot of fun, but create something that is very magical," said Kathleen Goyette, White Pass Ski Resort.
"We're just a bunch of overgrown kids playing, you know building a castle," said Dave Ruby, Castle Builder.
It's a little more technical than that, they use concrete forms to build the walls, packing snow and watering it down so it freezes hard.
"It's kind of like stomping grapes," said one volunteer.

The castle with all it's trivets, windows and ornamentation is really a glorified sledding hill.
"And there is a stream of kids on this thing starting Saturday morning and lasting until Sunday night when we have to pick up the tubes," said Ruby.
A crowning jewel of Winter Carnival, the castle is one of many attractions, ski races and carnival games help raise money for local children.
"We've been working with children's miracle network and children's village for about 17 years and we're real excited about that partnership. We've raised a lot of money over the years," said Goyette.
On average White Pass Resort raises $2,000 to $5,000 during the carnival, but you don't have to ski to hit the mountain this weekend, the sledding hill and castle are always free.