Student-Run Gesa branches in Tri-City high schools
Posted:
Updated: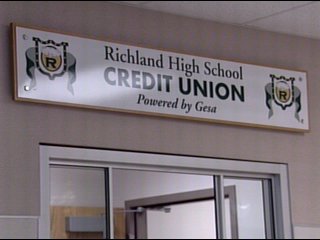 RICHLAND, Wash.-- Students at four Tri-City high schools bank at or work at Gesa Credit Union on their lunch break without leaving the school. The Campus Branch Program is at Richland, Hanford, Pasco, and Chiawana High Schools.
The Gesa locations in schools are full-functioning branches, run almost completely by students. Cara Scovazzo, a Junior at RHS and one of her school's branch managers, says, "We have cash, checks, withdrawals, deposits..." Catalina Gaviria, also a junior and co-branch manager, explains, "It pretty much runs like a normal credit union."
During their lunch hour, teachers and students stop by to deposit checks or take out cash. Gesa's Education Specialist, Teresa Shively, says having a branch on campus teaches teenagers how to manage their money at a young age.
The campus branch program counts as an elective for the student managers and tellers, but they say the real value is the hands-on experience. Gaviria says, "I want to go into business in my future and I realized this is an amazing opportunity."
Scovazzo echoes the same sentiment. "It's really cool because I like math and I've always thought about going into this field as well. So it's just another great skill to have and be able to take out into the world."
The students applying those skills is what Shively says the program is all about. She explains,
"What I really look forward to seeing in the students is them to succeed after graduation. They're academically prepared to graduate. And I really want to see them financially ready to go out into the world."
Gesa started this program 10 years ago. Shively says, "It started as just introducing the students to a credit union, but its become more of a work-based learning process and the ability to get in the classroom." Over the past years, she also says Gesa has hired at least 5 of the high schoolers who worked at the campus branches.
Gesa is expanding the program next year. They just signed a contract with the Kennewick School District to put branches in each of the three high schools: Kennewick, Kamiakin, and Southridge. The branches will be completed by the time school starts in the fall.