High school drop out rates in the Valley are above average
Posted:
Updated: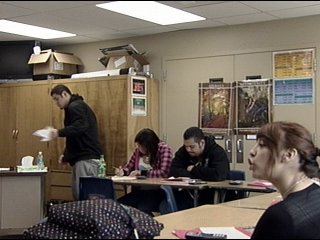 This morning President Obama promised an additional 900 million dollars to help fight the disturbingly high dropout rate for high school students. Over 1 million students drop out of high schools around the country every year. 859 of those are right here in the Yakima Valley.
Stanton Academy Guidance counselor Donna Kelly notes,
"We [Yakima residents] have high unemployment for families, high poverty, high mobility."
All of which contribute to the dropout rate. In the Yakima School District alone it is 7.1%. That's lower than the national average of 8.7% but higher than the Washington State average of 5.6%. But that doesn't mean the district isn't doing better. The drop out rates in the district decreased 10% from 2002-2008.
According to Kelly, "Student retrieval is a high priority for us. When a student has been absent with follow up with home visits and phone calls".
She went on to tell me that one of the biggest reasons students drop out is teen pregnancy. It is such a factor that some schools have on site day care to help with student retention. That program is vital to Amayrani Hernadez, a senior at Stanton who lives on her own with her ten-month-old son.
"It's important to me because I actually want to graduate and get my diploma. Having a school with a day care is actually pretty important. I don't have the money to take him to day care", explains Hernandez.
For other students, 40-hour work weeks, lack of motivation, and feeling of discouragement lead them to stop attending classes.
"That's when we call and say 'come on in, let's come up with a plan, we'll walk this road with you", Kelly says. Their retention and retrieval plan includes offering a vocational-like curriculum including career, technical, and culinary classes. The goal of this is to make students feel that they are learning practical skills and keep them coming back to school.
For detailed information about the Washington State public school performance visit http://reportcard.ospi.k12.wa.us/summary.aspx?year=2008-09