Kennewick teen creates art with a chainsaw
Posted:
Updated: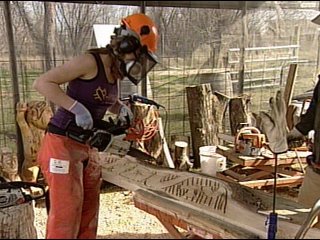 KENNEWICK, Wash;-- It may not be something you expect to see, a 14-year-old girl handling a chainsaw. But for Freja Elrod, it comes naturally, and so does creating the beautiful art which is displayed across Freja's lawn at home in Kennewick.
"At first I wasn't really sure about it," Freja says. Today she's decked out in protective gear. It keeps her face and eyes safe from any flyaway pieces of wood. "I was hot and sweaty and it wasn't what I was used to, but after I was done I stood back and looked at it and was really amazed with what I could do."
That vision of hers has come from watching her father Butch sculpt for years. He has traveled around the world learning, and then teaching every sculpting technique one could comprehend. Now he says it's his daughter's turn.
It's only been a year since Freja first picked up a chainsaw, but already, it has become more like a paintbrush than a dangerous power tool.
"I saw what you can do with wood and how you can make a block of wood, with a really ruthless chainsaw, into a magnificent thing," she says.
Freja has fallen further in-love with this unconventional art form since her trip last week to Pennsylvania for the national chainsaw wood-carving event. There she met the field's top dogs from all across the nation.
"It changed my perception. I realized you can actually make a living with this."
With that in mind, she and her father hit the wood blocks, pull down their protective face gear and crank up the chainsaws, but then they shout out a rule they say should never be forgotten.
"The three rules of chainsaw carving?" Butch asks his daughter. "Safety, safety, safety" she replies.
*See also Freja's website: www.misschainsaw.com*
--Hilary Whittier. If you have story ideas please email them to Hilary.Whittier@KNDU.com