Mexico lifts tariff on two types of Washington apples
Posted:
Updated: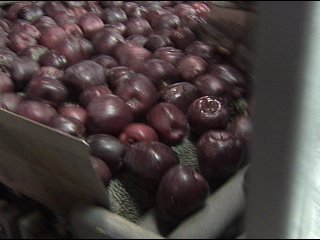 YAKIMA--Business with Mexico just got easier for apple shippers throughout the Yakima Valley. Wednesday, Mexico lifted tariffs on Red and Golden Delicious apples shipped from Washington state.
Since 1996, Valley shippers have had to deal with an extra fee to send their Red Delicious and Golden Delicious apples south of the border.
The Mexican government removed a nearly 50 percent duty on Washington apples Wednesday, a move that should increase competition to send fruit down south.
"There will be some packers and shippers who haven't been terribly active in the market who I think will be more so now," Jim Archer, manager of Northwest Fruit Exporters, said.
Will that mean more business for local growers and shippers? Not necessarily.
Archer said several shipping companies already had agreements in place to significantly decrease or even remove the duty fee--so much so that nearly all of the 7.2 million Red and Golden apples shipped in 2009 were sent down duty free.
Washington already ships some nine million cartons of apples to Mexico per year.
Archer doesn't foresee much room for growth.
"This [tariff removal] will make it more equitable across the industry," Archer said. "I don't know that it will necessarily create a surge in the market."
Many local shippers declined interview requests for this story other than to say they're pleased by any news of removed tariffs on their imports.
Rob Valicoff of Valicoff Fruit said he wasn't concerned with apple exporting fees, but a 20 percent tariff on cherries, apricots and other soft fruits.
That tariff's been in place since last March, when the United States ended a program that allowed Mexican truckers to drive in the U.S. Mexico responded by imposing tariffs on a variety of different products.
"We see activity in trying to resolve that matter," Archer said. "In terms of solid progress, it hasn't been that visible."
Reps from Congressman Doc Hastings' office say the same thing. State and federal trade associations are trying to get the duty fee removed, but no resolution is in sight.