Overall crime down 10 percent in the City of Yakima
Posted:
Updated: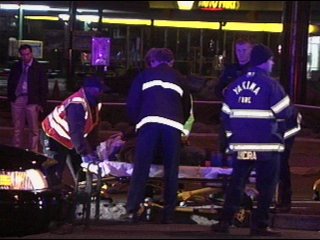 YAKIMA, Wash. -- The latest crime report for Yakima is out and it may surprise you. There were several violent crimes last weekend, but Yakima police departments crime analyst reports that crime actually went down in 2009.
The crime most influencing the statistics is theft and not violent crime like homicide.
"People's houses broken into, you know people work hard for their stuff you come home just to find nothing. It's happened to me before," said Francisco Vila, Yakima resident.
Vila's also had his vehicle broken into, you hear these stories often, but larceny theft is down by 20 percent in the City of Yakima, down by almost a thousand cases.
Extra police emphasis patrols may have helped, but Lt. Mike Merryman said extra patrols only deter certain crimes.
"Homicides, serious robberies, the very violent crimes those are things that are hard for law enforcement just in mere presence in the community to have much of an impact on. Typically lots of emotion typically drugs or alcohol involved [in violent crimes]," said Merryman.
YPD reports an increase in homicide numbers, there were eight in 2008 and nine last year. Crime analyst Cesar Aberu organizes the data, decreases of theft and arson outweighed the increases of rape and robbery, leaving us with a total crime decrease of around ten percent for 2009.
Whether people notice the statistical changes or not they say they do notice the police presence.
"I live on Fruitvale, I see them pass like at least 8 or 9 times in the past 45 minutes," said Vila.
Merryman said they don't read too heavily into the stats because crime always fluctuates year to year, but it does influence staffing.
"We'll use that information to determine where we deploy our people, how we design our district boundaries that sort of thing," said Merryman.
Merryman says YPD can't take all the credit when crime decreases, he credits recent neighborhood block watch efforts play a large role in deterring crime.