ID theft lasts 20 years
Posted:
Updated: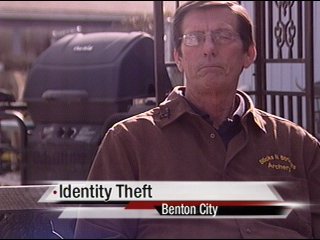 BENTON CITY, Wash-- Tim Fulton had his identity stolen over 20 years ago.
In 1989, he went to work in Colorado. He tells us it was there someone broke into his car and stole a briefcase. Inside of it--his identity--including social security number.
He didn't realize anything was wrong until he came back to Washington and tried to get a license. That's when it all started; the man who stole his ID was an alleged habitual offender, but that wasn't our Tim Fulton.

"In 20 years, I had one seat belt infraction," he says.
For years Fulton fought to get his identity back. He says it was even recommended he change his name--solve it that way.
"I was 37 at the time, and I said this is the name my father gave me. I'm not going to change it."
So he kept fighting, keeping all his paperwork with him--it was after all--the only way to prove who he was.
"If I was ever to get pulled over, the first thing out the window is the packet. Not a drivers license, not proof of insurance, and tell them read the packet."
Finally, about $8,000 later the problem seemed to be over. He's the owner of an in-house archery store.
But a trip to the DMV this week opened up an old wound.
"Up came the paper work," he explains. "Colorado's got a revoked license. And as soon as I see it, I went back to 1990. And I thought, 'oh no, I'm not doing this again.'"
The state's Attorney General tells us about 10 million nationwide fall victim to ID theft or fraud annually. And it can cost about $500-600 on average to get back. To help yourself, remember to never give out your information to questionable sources. And if you already have, immediately contact the attorney general's office.