Domestic Violence victim remembered
Posted:
Updated: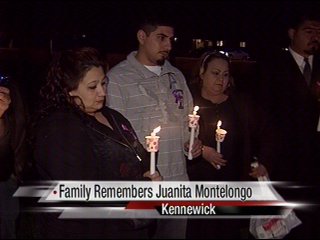 KENNEWICK, Wash. - Eight years after she was beaten to death friends and family remember the life of Juanita Montelongo. You may remember her, she was beaten to death by her live in boyfriend, Delonde Pleasant back in 2002.
Pleasant was convicted of first degree manslaughter and sentenced to 25 and a half years in prison. And now the latest court documents show he is appealing his sentence and asking for a jury trial. Family members of Montelongo are concerned because they believe he's not ready to get out.
"I feel like he has no remorse because if he did he wouldn't try to get out. He would know that what he did was wrong and not try and get out," said Jack Montelongo, Juanita's sister.
"He hasn't demonstrated anything to show us that he's even trying to rehabilitate himself. And you know, show us some rehabilitation before you try and get out at an early time," said Jessie Ratana, Juanita's cousin.
During the trial the doctors described the beating as one of the most severe they'd ever seen. If you or someone you know is a victim of domestic violence one of the best things you can do is speak to a domestic violence counselor. The domestic violence services of Benton and Franklin Counties have a 24-hour hotline as well as an office in Kennewick.
-- If you have story ideas please email them to chris.holmstrom@kndu.com