Tough decisions will be made in last week of legislative session
Posted:
Updated: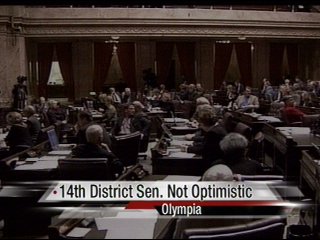 OLYMPIA--"Potentially disastrous" legislation for Yakima Valley farmers and car dealers. State Sen. Curtis King (Republican - 14th District) tells KNDO new taxes targeting those industries could come out of the 2010 legislative session.
With one week left in the session, lawmakers are searching for ways to balance the 2010 budget.
The Senate is considering bills already passed by the State House of Representatives the rest of this week. That includes a gang enforcement bill sponsored by Rep. Norm Johnson.
One week left in this year's legislative session, and King says Republicans have had no input on the state's operating budget.
"There's been little to no request for help or input," King said. "It's going to be their budget; at this point we haven't been involved and it's too bad."
Republicans will get a crack at bills dealing with the budget this weekend, but King's unsure if they'll have an impact.
Two bills the Yakima Senator will watch closely: a fee on fertilizer that could add a $10,000 tax per 125 acres of crops and a proposal to remove a sales tax credit when you trade in your old car for a new one.
Yakima County Commissioner Mike Leita believes what happens in Olympia could hit home.
"[Extra taxes can] cause businesses to struggle and perhaps fail," Leita said. "That has a direct impact upon our local tax revenues."
Many in the valley have been watching the gang bill proposed by Rep. Norm Johnson (Republican - 14th District). It passed easily in the House, but is now facing heavy resistance in the Senate.
"They think that all gang bills, particularly if they're coming out of Yakima, end up either racial profiling or discrimination of some kind," King said.
King said the Senate's will look at a very watered-down version of the bill Thursday, but he believes a weak bill is better than no bill at all.
The Senator added that Democrats are again looking to shutter the Yakima Valley School.
That decision could come within the next week as well.