Moving Forward: The George Stripling Story
Posted:
Updated: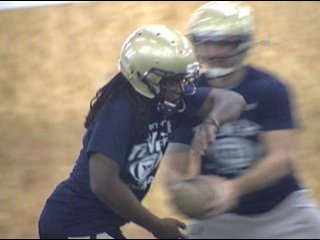 You're kicked off the team for a violation of team rules. Words an athlete never wants to hear. Fever running back George Stripling while a star at the University Louisville in the spring of 2008 heard those exact words. And has since been looking for a fresh start.
George Stripling talked about a second opportunity in the game of football: "Second chance that coach is giving me now... I'm going to take that chance and run with it. So I can get back out there to the next level and get my name back out there."
Being kicked out Louisville forced stripling to revaluate his life, and how to move on from his mistakes.
Stripling added, "There's bumps in the road in every journey... It's just a matter of how you handle the bump in the road. As you get older you learn from the situation and keep going so you don't make the same mistake."
Part of it involves where he gets his advice.
Stripling said, "Coach knows best. That simple cut and dry. Coach knows best. Listen to what coach has to tell you, and it's going to work out for the best."
Or maybe the fresh start requires a fresh look.
Stripling really wasn't feeling the whole hair cut vibe: "No... No I never considered that. Never even thought about it. Cutting it... I've trimmed it off a little bit. But cutting it all the way off. Well money talks."
Hair cut or not, Stripling is ready to prove he's the elite star he knows he can be.