All Kindergarten, all the time at Captain Gray in Pasco
Posted:
Updated: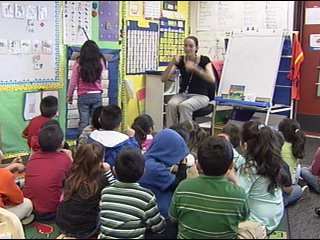 PASCO, Wash.-- Captain Gray Early Learning Center in Pasco is midway through its first year as an all kindergarten school.
Pasco school leaders say about 600 new kids join the district every year. Moving all the kindergartners from four different schools to Captain Gray made extra room in the other elementaries. Now, 500 kindergartners go to the new early learning center in two different half-day shifts.
Principal Kristi Docken says this first year has been a learning experience, for more than just the students. She says the beginning of the school year was tough at times, explaining it was the little things teachers at full elementary schools take for granted. Docken says, "The older siblings would help them get through the lunch line or the breakfast line. They don't have that here so it has required additional adult support."
After the first few weeks, Docken says, things calmed down and teachers have been able to lean on each other for new teaching methods. "This provided an opportunity where kindergarten teachers have more of a team to collaborate with to focus on both the teacher's learning and to help improve the learning of our students."
Docken also says the language barrier has been a challenge at times, but Captain Gray is staffed accordingly. She explains, "We have 75% of our classes are bilingual instruction and then the 25% are English instruction."
Right now the district plans for Captain Gray to remain an all kindergarten school again next school year. The principal hopes someday it will be full-day, but she says, that all depends on funding.