Gang Bill fails but Yakima community isn't giving up
Posted:
Updated: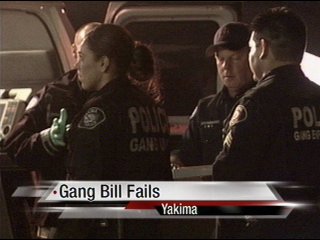 YAKIMA, Wash.- The state's proposed gang bill failed but local supporters say it is only a matter of time.
There have now been six homicides in Yakima County this year. Four of those happened in the city of Yakima. Representative Norm Johnson says he is disappointed to see the gang bill fail, and he is not alone.
"Every weekend there's something new, gang-related, shooting someone innocent, a death and I think we need to keep letting the legislators know that it is on going, its not going to stop," said Rebecca Withrow, who supports anti-gang efforts.
Rebecca Withrow lost her nephew to gang violence last year. Since then, she has gone to Olympia asking Legislators to close down gang houses.
House Bill 2414 would have classified gang activity as a nuisance and allowed people living near gang homes to file legal action against criminal gang members. It would have also let counties file civil injunctions to stop gang activity.
But Withrow says, it's not over.
"Neighborhood watches are doing great and people in groups are feeling a little bit safer and they're not going to give up on it, they're going to continue to fight," said Withrow.
Yakima Police officers say the bill would have been another tool to tackle gangs. For now, they will have to make do with what they have.
"We'll continue on doing business that we're doing now with enforcement that was can do you know, it's unfortunate that the bill did not pass. There was a lot of time and effort put into it," said Yakima Deputy Chief Kelly Rosenow.
Withrow says Yakima's neighborhood watch groups are growing. She's hoping more people will be willing to testify in front of Legislators.
As for Legislature, Johnson says he will push for the bill again next year.