CWU Tuition Hike
Posted:
Updated: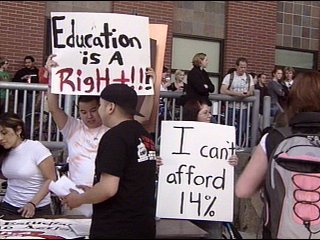 Five thousand six hundred dollars. That's what it's going to cost to go to Central Washington University next year. Students are looking at the second 14% fee hike in 2 years. University President Dr. James Gaudino explained the Board of Trustee's decision to raise tuition. "We are getting every possible indication from the legislature that out budget will be cut more than they said last year, and that really forced the hands of the trustees to raise tuition."
Dr. Gaudino believes tuition increases show the state government devaluing a four year education and treating it less like a public service and more like a private benefit to create revenue. Students worry what the increases will mean for their access to a college education.
Keith James is student body president. <mosID>KNDU.DEKO.MOS</mosID><mosAbstract>"It's just more of a struggle students have to bear and go through for higher education. You may have a fabulous institution but if you have students that can't afford it, then there goes your diversity."
Keith has already seen six students dropout because they couldn't afford tuition anymore. And that was just with the last round of fee increases. He's afraid with the new increases even more students are going to disappear.
Central's student government will be lobbying in Washington D.C. in the coming weeks in hopes of bringing more money to the state's higher education system.