Vista Field remains open
Posted:
Updated: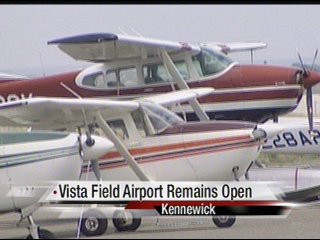 KENNEWICK, Wash. -- Its been up in the air for the past 4 years and now a decision has been made on the future of Vista Field.
After a 3 hour public comment meeting Commissioners from the Port of Kennewick unanimously voted to keep Vista Field Airport open. The other option was to close the airport and re-develop the property for commercial use, but after listening to the Port of Kennewick and the public they decided to continue with the expansion of the airport.
One of the main arguments against the closure is the $1.5 million the port would lose if they had to redevelop the area. More than two dozen people voiced their opinions and the majority were in favor of keeping Vista Field open.
"I think it's an asset for the community and there's a lot that can be done in the future to really enhance its ability to attract tourism and to get more pilots and more economy into the Tri-Cities," said Carol Moser, in favor of Vista Field Airport.
"I think the decision is what the community wanted. I don't oppose the operations for the air port, I think it is a bad location and should be moved," said Paul Christensen, opposes the location.
Now that the decision has been made the Port of Kennewick will continue with the airport's 2006 master plan, but all improvements must be funded by private investors and or grants.