Yakima Valley farmers rush to frost protect their crops
Posted:
Updated: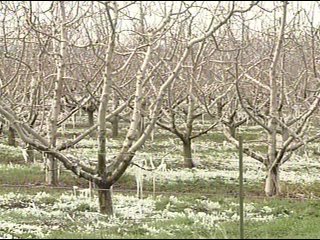 WAPATO, Wash. -- Mother nature is reminding us that winter isn't over yet, as a cold snap hits the Yakima Valley. It means local farmers are rushing to protect their crops.
Crops bloom earlier in the Lower Valley because of warmer temperatures and that means frost protection can start-up to two week earlier for farmers there as opposed to farmers further north.
"We need to be awake all the time and we just need to be ready for whatever comes," said Sergio Marquez, owner, Marquez Farms.
For Marquez that call came around 9:30 Monday night. There are thermometers placed around his 200 acre orchard.
"And this one, that's the one that call the cell phones," said Marquez, as he pointed to some wire strung through the trees.

When the temperature dips too low an alarm goes off in his home and calls are made to cell phones.
"The fruit buds they're pretty tough right now, see I have all apples so they really take up to 24, but this morning the temperature dropped to 18," said Marquez.
Marquez's alarm went off when temps hit 28 degrees Monday night, that's when he starts up the wind machines. The ten machines can keep frost from settling on the apple trees. Marquez's truck also has a thermometer so he can turn on the machines in the coldest parts of the orchard.
The smudge pots are also ready, but he hopes it doesn't get that cold this spring.
"I don't like to gamble, but as a farmer I feel like I gamble everyday," said Marquez.
Right now Marquez feels it's too early to tell if this will be a good apple season. Two years ago, it was so cold he fueled the wind machines five times. Last year it was only once, now he's hoping for another mild season and only a few sleepless nights.