Yakima neighbors are fed up with illegal dumping
Posted:
Updated: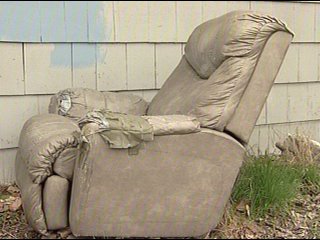 YAKIMA, Wash.- Yakima neighborhoods are covered with dumpsters, most of them full. Neighbors say the trash inside of them shouldn't be there.
"Like at 5 or 6 in the morning, I don't recognize the rigs, they just dump and get back in their truck and drive off like its nothing," said Michael Ryckman, a concerned neighbor.
"When they put them in there, they fill the dumpsters up and people don't have room to throw regular garbage away," said Scott Santaniello, another concerned neighbor.
Neighbors say it used to happen occasionally. Lately, they have seen more large items like sofas appear, which is why neighbors started guarding the area.
"I don't know them so I run them off. Seems like I catch two or three people a week, it's becoming a weekly basis and it's getting really bad," said Ryckman.
Neighbors say the illegal dumping usually happens in alleyways and quiet streets. The problem isn't just what's going in, but items like chairs that are left outside of the dumpster.
"They take couches and chairs out and you usually have to find a way to get rid of them," said Santaniello.
"We're paying to dump other peoples trash it's not really fair to us," said Ryckman.
Neighbors say they call Yakima Police and officers respond, but it's not always so simple.
"The hard part for law enforcement is that its a crime where we need to catch folks in action and generally we get a call that someone just dropped off a bag or two," said Lt. Mike Merryman from the Yakima Police Department.
Officers say what you can do is write down license plate numbers and information if you see any repeat offenders.