River's Edge giving dropouts a second chance
Posted:
Updated: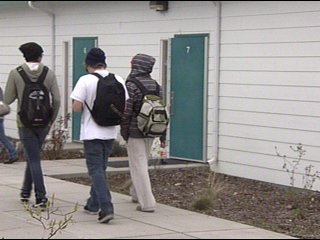 RICHLAND, Wash.-- One student at a time, River's Edge High School is taking dropouts from Richland and Hanford High and making them high school graduates. And tomorrow, one more will graduate.
Omar Pelaez is twenty years old; he's a little late to graduate high school after dropping out from Hanford High.
"I dropped out from Hanford," he says. "And [I] came here actually to take a GED [test] because I just wanted to get through it just didn't want to deal with it any more."
He was done with school, he had to drop out at Hanford High because he needed to work full time. But after failing the GED test, teachers at River's Edge convinced him to stay despite having a job. He's been here for nearly three years-- tomorrow he can call him self a high school grad.
"the students are challenged," says Dean of Students, Mike Carlson. "Where the students are invited to be the very best and the students see over and over they are capable of so many great things they never imagined."
River's Edge has gone through a transformation in the past decade. Once known as a school where kids went to lose even more hope, now more than sixty percent of graduates go on to college the change was staff who held students responsible.
"So raise those standards, raise the bars, raise the expectations," says Carlson. "And we find that when we do that the students rise to that occasion and they succeed and they ask for more."
Omar had to have his own motivation to do well; but that's part of the mission here-- treat students like the adults they want to be.
"I want to go to college," says Pelaez. "I want to I don't know where yet I'm not sure yet I want to I want to work to and establish myself a little bit better."
Omar says eventually he wants to be a mechanic and he hopes someday work on a NASCAR pit crew.