Legislature toughening phoning while driving laws
Posted:
Updated: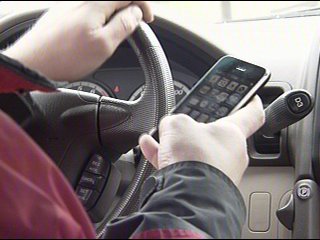 YAKIMA--Using your cell phone while driving may soon get you a $124 ticket.
The Washington State legislature agreed Thursday on a bill to make talking, texting or reading on your phone a primary offense, meaning you can get pulled over just for using your phone in the car.
Right now it's a secondary offense, which means you've got to be committing another offense to get pulled over.
Behind the wheel? You might want to start putting those phones on silent.
With the legislature passing this bill, it's only a matter of time before police can pull you over just for fiddling with your phone.
That's good news to Wayne Parker.
"There's too many accidents happening," Parker said. "I run in to people two or three, four, five times a day that are on their phones and not watching what they're doing."
Not everyone KNDO talked to agreed with the legislature's decision.
"I don't think they should be able to pull you over immediately [for using a cell phone]," Michelle McCord said. "You should be doing something else [wrong]."
McCord thinks law enforcement should be more focused on speeders and drunk drivers, but Yakima police say talkers and texters are trouble too.
"A good portion of our collisions are rear-end type which [are caused by] distraction, they're not paying attention to drivers in front of them," Traffic Sgt. Gary Jones, Yakima Police Department, said. "If you have a high number of rear-end collisions, then we need to eliminate distractions, make the drivers more aware."
Yakima-based state troopers pulled over 144 drivers in 2009 for using their phone while driving, but only 19 got the $124 ticket.
Both WSP and YPD expect that number to increase dramatically.
"To make a law effective it has to have consequences. We all know that," Jones said. "It would be hard to find a driver that's not aware that you're not supposed to be doing that."
The bill is on the governor's desk, waiting for her approval.
Once she signs it may take a while for it to go in to effect, but you might want to toss the phone in the backseat and get a hands free device in the meantime.