Murder suspect pregnant woman killing "faking it"
Posted:
Updated: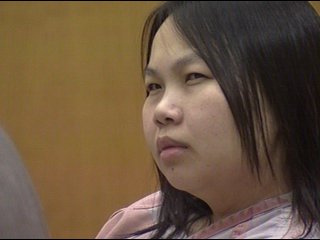 KENNEWICK, Wash.-- She claimed she's an "Asian Princess," a "mermaid," that "everyone is against her, including her attorney," that she has a baby and a son named "Johnny." Those were just some of the manifestations of schizophrenia a clinical psychologist says Phien Sisouvahn tried to fake in order to be deemed not competent to stand trial for a murder in Columbia Park in 2008.
"It's my opinion that she has the capacity to understand court proceedings," said her evaluator at Eastern State, Dr. Randall Strandquist. "And [she] has the capacity to assist in her own defense."
Dr. Strandquist also said Sisouvahn claimed to hear voices and hallucinate during her two week stay at Eastern State in late December and early January this past year. But staff became suspicious of her supposed symptoms after only a few days. She stopped carrying around a rolled-up blanket she said was her baby, and when she thought she wasn't being observed, she acted fairly normal.
Dr. Strandquist said he administered a litany of tests, including a Rorschach test to diagnose and conditions Sisouvahn might have. He said in court she maligned symptoms during formal interviews, and while she did have mental issues, including an IQ bordering on mental retardation, she was competent to stand trial.
He said all of the tests he did concluded Sisouvahn was feigning her symptoms of competency.
Sisouvahn is accused of cutting an unborn baby out of a pregnant Pasco woman at Columbia Park in 2008.
When the doctor was finished, the defense jumped, claiming tests he used had a lot of false positives for feigning symptoms; that he never took into account Sisouvahn's past to explain her symptoms, and that he cherry picked data and studies to support his claims.
At times, Dr. Strandquist appeared agitated with the defense's line of questioning, even reading passages in a textbook, to which the defense attorney, Michael Iaria, asked Strandquist if he was being "sarcastic."
Iaria also proposed the possibility Strandquist's workload precluded him from making a thorough report. Strandquist said he completes about two reports each week.
Strandquist said during recess he rarely has to testify after he files an evaluation, and he has never been cross examined to the extent he was today.
The competency hearing has been delayed until March 24, when the defense can call their own psychologist to the stand, who also evaluated Sisouvahn earlier this year. Judge Robert Swisher is expected to make a quick decision after that.