Yakima Mayor in Washington, D.C.
Posted:
Updated: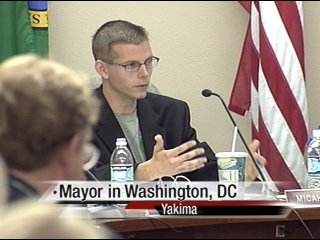 WASHINGTON, DC--The mayor of Yakima is leading a local group on a trip to Washington, D.C.
Mayor Micah Cawley and other council members say this trip is crucial to funding projects in many different city departments.
In 2009, city leaders secured a grant that allowed the Yakima Police Department to hire three new police officers.
KNDO spoke to Mayor Cawley shortly after he arrived in the nation's capitol. He'll be there until Wednesday, lobbying for projects like redeveloping the old Boise Cascade site, the downtown futures project, and most important in Cawley's eyes, creating an integrated public safety system for all of Yakima County.
"We're trying to get cities and counties and fire districts, everybody on the same communication system," Cawley said. "That is going to be key for fighting gangs, drugs and crime, along with communicating between the emergency responders in the area."
Yakima's group is much smaller this year than in years past. City Manager Dick Zais and council members Dave Ettl and Kathy Coffey pulled out of the trip for personal reasons, according to Cawley and council member Maureen Adkison.
Yakima County Commissioner Rand Elliot and a few other locals joined Cawley and Economic Development Coordinator Michael Morales in the Capitol; only Cawley and Morales traveled on the city's dime.
Cawley tells KNDO the federal funding secured on this trip will easily outpace the expense of traveling and staying in Washington, D.C.