Chiefs' Win Hands Tri-City Third Division Title in Three Years
Posted:
Updated: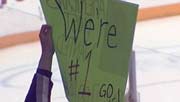 (Photo: KNDU / SWX)
by Tri-City Americans
SPOKANE, WA - It doesn't happen very often but on Sunday night, the Tri-City Americans became the biggest Spokane Chiefs fans in the Western Hockey League.
With nothing to play for but pride, the Spokane Chiefs (45-22-3-2, 95 pts) knocked off the visiting Everett Silvertips (46-21-3-2, 97 pts) 3-2 in front of 9,204 fans at Veterans Memorial Arena. With just his fourth goal of the season, the game-winner came off the stick of Mitch Holmberg near the midway point of the third period, as James Reid and the rest of the Chiefs did the rest. The Chiefs remain locked into the #4-seed going into the playoffs and will take on Portland in the first round. Meanwhile, with the loss, Everett slipped back into third place in the Western Conference, despite being tied in points with Tri-City. The Silvertips will meet the #6-seed Kelowna Rockets in the first round.
Despite the tie atop the division standings in points, Tri-City collected 47 regular season victories to Everett's 46, thus ensuring that the Americans will raise their third straight U.S. Division banner next season. Spokane's win also gave Tri-City the #1 seed in the Western Conference heading into the 2010 WHL Playoffs, where they will meet the Chilliwack Bruins starting on Friday, March 19th at Toyota Center. Game time is 7:05 p.m. Chilliwack took the four-game regular season series with Tri-City 3 games to 1 and was the only team from the B.C. Division to beat the Americans this season. The Bruins enter the series 5-4-1-0 in their last 10 games and hold a 1-8 record all-time in the post-season. Meanwhile, Tri-City also enters the post-season with a 5-5 record, but comes in having advanced out of the first round the past two seasons. This will be the first post-season meeting between the two clubs.