Community gardens on the way
Posted:
Updated: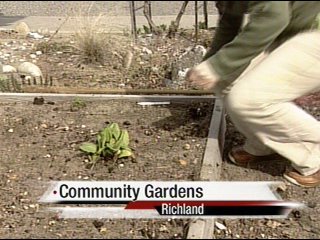 KENNEWICK, Wash-- Across the street from Kamiakin High School, a plot of land will soon be transformed.
The tall grass will be ripped out to make way for new green grass and soil which will be used for community gardening.
Ginger Wireman is involved in the Confluence Community Action Network- CCAN and she is working to clean out the soil of her home garden.
It's an activity she has grown to love over the years. It's also one she hopes will catch on in the Tri-Cities as she works with CCAN to develop community gardens in Pasco, Richland, and Kennewick.
"We're looking for people who want to grow their own food and want to grow food for others" Giner explains.
But first, these empty sections of land will have to be transformed.
"In addition to the food, the reason to have community gardens is to get some fresh air, get outside, get some sunshine and get to know your neighbors" Ginger says.
Jeff Rau owns two acres next to Kamiakin and has offered it as the Kennewick community garden site.
"I think it's a great spot. Like I said, it used to be a nursery, so it's got a long history of growing products for home" says Jeff.
Every year he pays a water bill of about 600 dollars. He says it's time the water goes to good use.
"To garden you have to have water and sunshine. Someone's got to pay for the water and this is pre-paying, so let's use it" Jeff explains.
The gardens are expected to be ready by this summer and Ginger says growing your own food is a great start to a more sustainable lifestyle.
"You'll know how to take care of your food. You'll know where it came from".
If you're interested in getting involved with a community garden click here.