Fighting gangs in Walla Walla
Posted:
Updated: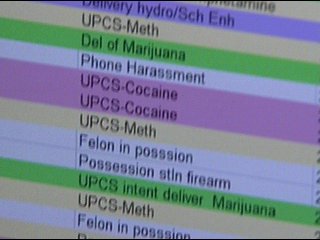 WALLA WALLA, Wash.-- They called it a war zone. Early Saturday morning, the 1300 block of Center St. in Walla Walla was littered with bleeding, injured bodies; all the result of gang-related violence.
Walla Walla police say in the past few years, gang participation has jumped. They now are tracking upwards of 500 known gang members in the city, and gang-related felonies have multiplied exponentially. Already there are around a dozen gang-related felony charges, mostly drug related.
There are only three officers in Walla Walla designated to fighting gang activity; this weekend, they had a thirty-hour shift investigating a gang-related attack on Center St. A father and his stepsons, along with other passengers, drove to a house where known gang members were having a party. For unknown reasons, the gang members attacked the group in the car, injuring all of them. A Marine on active leave was seriously injured, and another is still in critical condition with stab and bullet wounds at a Portland hospital.
Two alleged gang members were arrested in connection to the attack; they are being held on $250,000 bail.
With a police department stretched thin, the community has been called on to turn these kids from a life of crime. Authorities say most gang members just want direction, and get it fulfilled in their gang. Ramon Zamora is trying to change that.
Since 2006, Zamora has been running Zamora's Athletic Program, a boxing and social club for youths, aimed at giving them the structure they don't get elsewhere. Zamora and his wife, Jennifer, don't seek out gang members to try and convert them, they let the boxing speak for itself.
"What our whole intention was when we first started this," Zamora says. "Was to just have a center where kids can come off the street and hang out and have a place where kids can call home."
He says in the nearly four years since ZAP has been running, he has been working with gang members all the time, showing them there's a different life to live. And he says he's even had to kick kids out of the program because they refuse to leave their gang.
Our thoughts were," he says. "If we can change one kid in all the time we're here, whether it's a year, twenty years, we've made a difference."