Pendleton 4th Grader Going National to Shoot Free Throws
Posted:
Updated: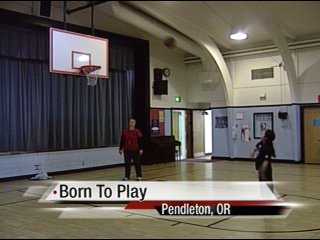 PENDLETON, Ore. -- In sports, the goal is to be the best. One local 4th grader is the best. Mary Stewart of Pendleton, Oregon is the Northwest Region's top free throw shooter. She'll compete in hopes of being the nation's best in the 8- and 9-year-old Division in April in Massachusetts.
Since anyone could remember, Mary Stewart had a basketball in her hands. In fact, she loves the game so much that any chance she get's, this 9-year-old laces it up.
"Mary plays basketball at probably 90% or 95% of the recesses here at school," said Mary's 4th grade teacher Kathy Gregory. "She and her buddies just go out there and either shoot the basketball or play in a game."
This Washington Elementary student has more than the drive. She's has the talent, winning local and regional free throw competitions to enter the national one in April. You're allowed 25 attempts and whoever makes the most wins. This big stage would make most of us nervous, not Mary.
"She shows no emotion when she gets out there," said Mary's Mom Joann. "You wouldn't even think she's nervous as heck. It's like she feels free when she does it."
There is one thing that scares Mary about the trip to Springfield, Massachusetts in late April.
"I'm scared to go on an airplane," She said. "I haven't been on one before."
Mary is one of 4 Stewart children, with another one on the way. Her family's support means ...
"A lot because they cheer me on," She says. "And they just don't get mad at me if I don't make any of them. They just keep on encouraging me."
The national competition begins April 22nd and goes through the 25th. Mary would love to have her biggest fans in her corner when that day comes. Right now, the family is trying to raise more than $2,000 to send the rest of their immediate family over to Springfield to help make Mary's dream come true.