Save money by recycling your refrigerator and receive rebates
Posted:
Updated: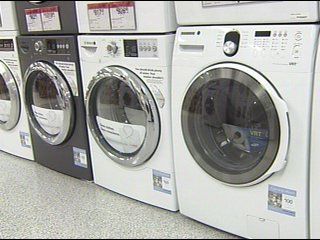 Pacific Power is encouraging customers to recycle their old refrigerators and says there now are extra incentives because of a new federal program.
Washington state started offering stimulus money Monday to consumers if they removed their old appliances and replace them with new, energy efficient ones including refrigerators.
The company says the process is simple and that 95 percent of the refrigerator will be recycled. They began the program in 2005 as a way to remove units in customers' garages that were not properly used year round.
"[It] reduce[s] the power that we need to generate for all of us in reducing energy cost and saving the environment a little bit," said Clark Satre of Pacific Power.
Those refrigerators add $150 to the average electric bill every year and put out the same amount of CO2 emissions as two cars.
If you schedule a recycle with the electric company and they remove a working refrigerator form your home, they will give you a $30 rebate. The new federal program, which requires proof of you recycled the unit, will give you $75 toward a new refrigerator. Pacific Power will also give you $20 for that purchase.
"A very large portion of the energy we're going to need to produce to serve new customers in the future needs to come from conservation," said Satre.
Since the program began, the company estimates that 1300 customers in the state receive power from the energy saved by recycling refrigerators.
To setup an appointment for pick-up and recycling of your unit, call Pacific Power at 1-866-899-5539.