Men find sobriety through Teen Challenge
Posted:
Updated: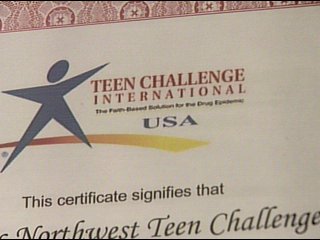 PASCO, Wash;-- It's only been up and running for a year, but already the organization Teen Challenge has developed housing and programs in the Tri-Cities to help more than 60 men struggling with drug and alcohol addiction.
Teen Challenge is a national and international faith-based program geared toward helping men turn their lives around. Nationally, the program has about an 86 percent success rate, and now that more people are learning about the branch in the Tri-Cities, local men living destructive life styles are learning new ways to change.
"I started off real early at 9-years-old," recovering addict Jonathan Gross said. "I started smoking weed and smoking cigarettes and all of that."
Eventually, he says it led to a serious addiction and later left him homeless, but then he heard about Teen Challenge
"I'm actually happy instead of trying to fill that empty space inside of me with a bunch of drugs and alcohol and partying," he said.
Which is why the organization, which has 200 centers around the nation, has come here, to spread a message of hope and strength to those young men who have no where else to turn.
"We're like the shifting stage of getting guys off the street, out of prison, homeless, and just really struggling with addiction," Director of the Teen Challenge Tri-Cities Jesse Campos said.
Jesse too was a drug addict, but years ago when he found sobriety, new life goals emerged. One of them, to bring Teen Challenge here and help others through the faith-based program.
Another way the organization will be reaching out is at the March Against Madness event on Saturday March 27th. The men will be marching in downtown Kennewick, along with local businesses and police departments to support those struggling with drugs.
*For more information, go to http://www.teenchallengepnw.com/program_mens.html
--Hilary Whittier. If you have story ideas please email her at Hilary.Whittier@KNDU.com