Dress party for special needs prom students
Posted:
Updated: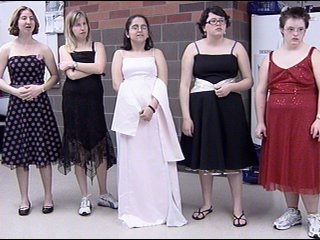 YAKIMA, Wash--May 7 is prom in the Valley… but this won't be your average prom...mostly because the majority of the attendees will be special needs students. In preparation for the event, there was a dress party today for Yakima area special needs girls. The students got to sort through the dresses and pick one to wear for their big day.
Most of the ideas, planning, and funding for this prom came from a group of West valley students. But today's dresses came from Maria Andres, a student at Stanton Academy. She found out about the prom from a KNDO story last month. "For my senior project, I was already collecting dresses for people who needed it for prom. When I heard about the special needs prom on the news, I thought it was great. They needed dresses and I had all these dresses, so I just figured, why not."
Maria isn't the only non-West Valley High person to help out with this event. Members of the community have also provided flowers, limo rides, makeup, and DJ services for the event. All of the donations have helped to ensure that money doesn't get in the way of the special needs students having a great time.
The student organizers are still looking for food donations. Ideally they would like to have all the food for the night donated, but they may be able to afford $6-$7 per person for dinner. If you would like to donate to the West Valley Special Needs Prom contact teacher Tom Robinson at 509-972-5900, or robinsont@wvsd208.org.
There are also many left over prom dresses and shoes. If you know someone who is in need of a dress, contact Maria Andres at mandres002@aol.com